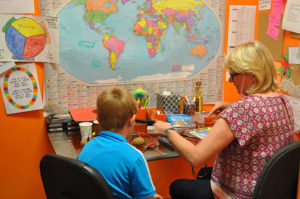 Test Prep
The Batt School is equipped to prepare you for multiple tests and certification exams including: SAT/PSAT, SAT Subject Tests, ACT, AP, EOC, PERT, SSAT, LSAT, GRE, GMAT
Study Skills
We will give you a number of test taking strategies to help you pace yourself and prepare for success in any testing situation.
Speech and Language
Our speech and language therapists use the most cutting edge approaches to helping our clients manage and overcome speech and language processing disorders and deficiencies.
College Counseling
We employ expert college counselors that will help you prepare statements and applications to various colleges and universities in the United States and internationally. Our college counselors are well-versed in the characteristics admissions departments look for in a student and can help you present your scholastic experiences in the most advantageous way.
Psych-Educational and Neuropsychological Testing
We employ psychiatric doctors and evaluators to make sure that your students have the correct diagnostics to help us adequately service their individual needs.
Tutoring
We provide a range of educational services including tutoring in all subjects, standardized test preparation, and college guidance.
IEP Preparation
We work closely with teachers, parents,  psychologists and academic psychiatrists to develop an IEP plan that is best suited for each individual child and client.
Homeschool Support
We can work as consultants for parents wishing to create and structure a homeschool curriculum. We can advise your family through this process, administer any standardized tests, as well as make sure you are complying with Florida state law.
Online College Support
We have the capability to administer and support your collegiate curriculum.
Distance Education
Many of our students are involved in wonderful activities that require traveling and we are completely adept at integrating our curriculum in an online learning format.
School Away From School
We work with numerous private and public schools around the country and world to support individual student needs while they travel.
Specific Learning Disabilities Instruction
Our faculty is highly trained in educational planning and services for students with asynchronous development. We have a number of prescriptive programs that we employ and can create a individually-detailed approach for every child.